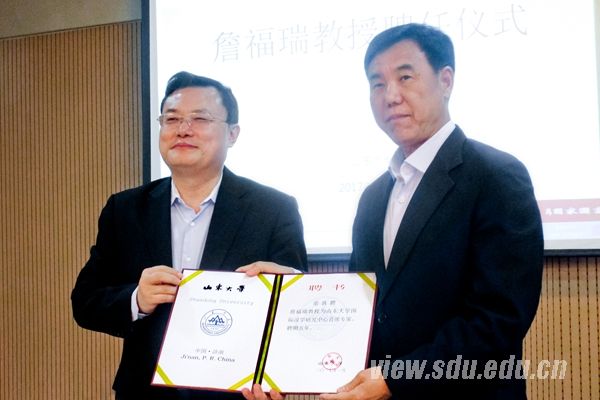 On April 7, Zhan Furui, former curator of the National Library of China, was appointed as Chief Expert of the International Sinology Research Center (ISSC), Shandong University. A ceremony was held in Zhixin Building on the Central Campus. President Zhang Rong presented the letter of appointment to Zhan and delivered a speech.
Onthe ceremony, Zhang said that as a leading expert in classical literature and library, Zhan's appointment showedSDU's determination in introducing high-caliber talents. Heexpected Zhan and others at the centerto draw on each other' strengths and fulfill the project "Global Integration of Chinese Ancient Books".Zhan responded that he had always respected the scholars of SDU for their diligent work and as one of them now,he wouldspare no efforts onthe project.
After the ceremony, Zhan made an academic report titled "Fate of the Classics". Starting from the national reading situation, he pointed out the adverse conditions facing literature and the classics. Taking the outstanding Chinese literature asanexample, he stated that the classic literature shouldpossess three features, namely, diachronicity, exemplarity and eternality. The construction of classics is due totheir uniqueness, transcendence and profoundness, whichdistinguish themfrom popular culture. He said literature scholars should focus on the classics all the time,which should be held as a principle as well as a mission. Finally, Zhan encouraged all to read classic works and appealed the scholars toattach more importantce to classicauthors and works when selecting their research subjects so as to occupy the highland of study.
Wang Xuedian, Vice President of the Advanced Institute of Confucian Studies,SDU, chairedthe ceremony. Zheng Jiewen, Professor of the Institute and Director of the International Sinology Research Center,hostedthe report. Prof. Wang Chenglue, Prof. Liu Xinming, faculty members, students andliterature enthusiasts attended the meeting.
Zhan Furui,Ph.D. inChinese ancient literature, is a renowned expertin ancient literature study and criticism.He has worked in the national cultural institutes, academic organizations and institutes of higher education in various roles. He has profound academic achievements, brilliant academic reputation and rich experiencein management.
Translated by: Lang Cuicui
Edited by: Li Hong, Song Yijun
Photo by: Sun Hongyuan