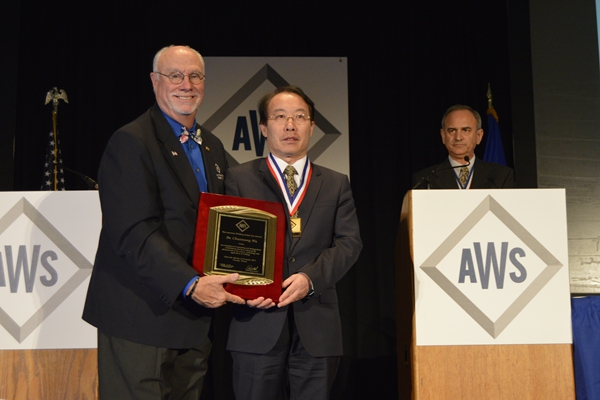 The 2017 American Welding Society (AWS) Annual Convention started on November 6, 2017 in Chicago, USA. Prof. Wu Chuansong from the School of Materials Science and Engineering at Shandong University, was elected and inducted as the 2017 Class of Fellow of the American Welding Society on the induction ceremony, in recognition of his outstanding and distinguished contributions that have enhanced the advancement of the science, technology and application for welding. Up to now, Prof. Wu is the first and the only one scholar in welding field who has ever won the AWS Fellow honorary title in mainland China. More than 600 scientists and engineers in the field of welding all over the world attended the event.
Prof. Wu, an internationally well-known scholar of materials welding and joining, has been conducting R & D in welding physics and the numerical simulation, sensing & controlling of the high-efficient welding processes for more than 30years with fruitful academic achievements. The AWS President John R. Bray and the Chairman of the AWS Fellow Selection Committee Charles Robino, co-signed the citation which stated "Dr. Wu has been a pioneer and a leader in the development of multi-physics models for various welding processes, which provided deep insight into the process mechanisms and played key roles in enriching the knowledge base of welding science and technology. His pioneering work has been laying a broad foundation for welding as a predictable and controllable engineering technology. With complete understanding of the underlying physics based on the process models, Dr. Wu has developed innovative variants of conventional welding process to increase productivity and product quality. Therefore, for his distinguished career, be it resolved he be selected as a Fellow of the American Welding Society."
The American Welding Society (AWS) was founded in 1919, as the most influential nonprofit organization with a global mission to advance the science, technology and application of welding and allied joining technologies, and has over 73,000 members from all over the world.From 1991, the AWS established the honor of Fellow of the Society to recognize those members with distinguished contributions to welding science and technology. Election as a Fellow of the Society from more than 73,000 members worldwide is only based on the outstanding accomplishments and technical impact of the individual (less than 7 Fellows is elected each year), and thus it is the highest honor for the senior members of the AWS. In 2017, only two outstanding scientists was elected and inducted as the AWS Fellows worldwide.
Source: the School of Materials Science and Engineering
Written by: Chen Ji
Edited by: Xie Tingting