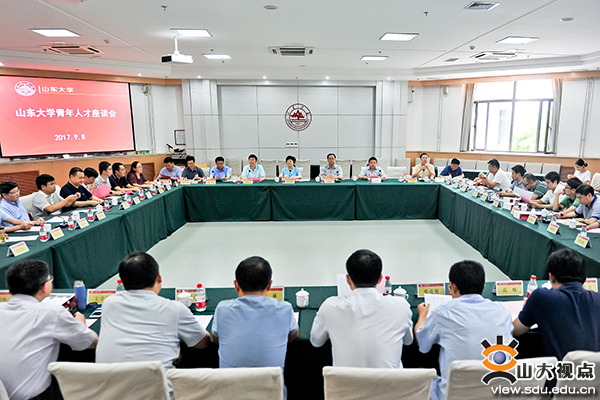 SDU President Fan Liming, together with university leaders Li Jianjun, Han Shenghao and Cao Shengyuan, attended the SDU Young Talents Symposium on September 8.
Han Shenghao chaired the meeting and introduced the achievements gained by SDU in 2017 in the areas such as discipline construction and planning, building of talent teams, talent cultivation, scientific research, international exchanges and social services.
In the discussion, 34 representatives of outstanding young talents including winners of Science Foundation for Distinguished Young Scholars, the selectees of the Cheung Kong Scholars Program, the top-notch young talents of the "Ten Thousand Talents Program" and the selectees of the "One Thousand Young Talents Program" expressed their approval for the development programs centered around SDU's Double First Class Construction and appreciation for the policies supporting the young talents cultivation. They also actively offered advice and suggestions for SDU in its discipline development, human resources and talent policy, construction of scientific research conditions, team building and students cultivation.
Heads of relevant departments of SDU administration answered questions posed by young talents, saying that SDU will offer further support and assurance for young talents to carry out their teaching and scientific research in the aspects including human resources policy, post-graduate cultivation, space resources allocation, financial management, and improvement of living conditions.
Fan expressed appreciation for the young talents for their valuable advice and suggestions for SDU's development. She also expressed her expectations and requirements. Firstly, the young should clarify their personal goals and combine personal growth with SDU's development. Secondly, young talents should find new breakthroughs in disciplinary crossing and integration to generate new concepts, ideas and make further achievements in scientific exploration. Besides, they should focus on team building in teaching to attract outstanding students from both SDU and other universities and care more for undergraduates and engage actively in undergraduate education. Thirdly, the university as a whole and all schools and colleges should provide service assurance for scholars from human, financial and material sides by continuing to deepen the system reform on human resources and resource allocation and integrating human and material resources so as to serve teaching and scientific research better and improve young talents' living conditions gradually.
Source: view.sdu.edu.cn
Translated by Peng Wanran
Photo by: Liu Mengdong
Edited by Li Hong, Lang Cuicui