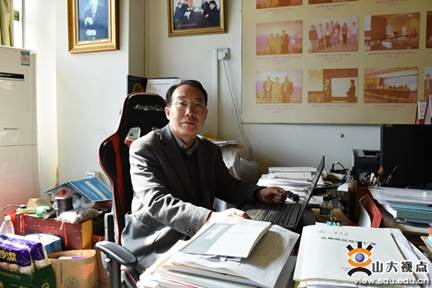 "I feel very excited and proud that the fruits of my research and academic achievement over the past thirty-odd years have received wide recognition from the international academic circle."
On the morning of November 6, 2017, Prof. Wu Chuansong from the School of Material Science and Engineering, Shandong University—the academic leader of SDU's material welding research program—was elected the 2017 Class Fellow of the American Welding Society (AWS) in Chicago, USA.
Prof. Wu is the first and the only scholar from the Chinese mainland to win the honorary title of AWS Fellow.
The first AWS Fellow in Chinese mainland
The American Welding Society (AWS), founded in 1919, is the most influential nonprofit organization of welding technology. The AWS Fellowship is the highest honor the society grants to senior members. In 2017, only two scientists were elected and inducted as AWS Fellows worldwide, and Wu was one of them.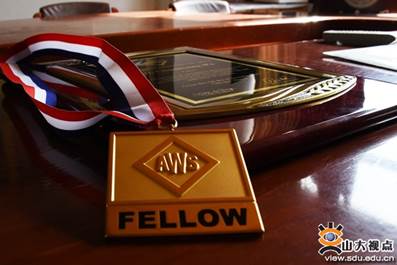 The citation signed by Charles Robinson, the AWS Fellow Selection Committee Charles Robin chairman, stated during the ceremony, "Dr. Wu has been a pioneer in the development of multi-physics models for various welding processes, which provided deep insight into the process mechanisms and played a key role in enriching the knowledge base of welding science and technology. His pioneering work has laid a broad foundation for welding as a predictable and controllable engineering technology."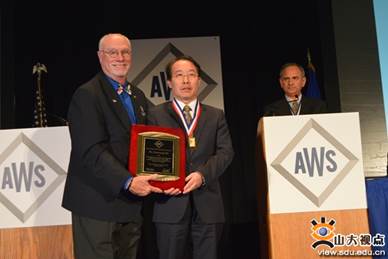 AWS President John R. Bray (left)conferred the medal of Fellow to Wu Chuansong(middle); and the Chairman of the AWS Fellow Selection Committee Charles Robino(right) attended the ceremony
Initially included in the first batch of Sino-US joint training doctoral students in 1986, Wu Chuansong attended to the University of Wisconsin-Milwaukee for further study. Since then, he has become one of the first in the field to begin research on the mechanisms of welding with the assistance of computer simulation.
From then on, Wu devoted himself to his study for over 1 year and, for the first time, revealed the role of finger penetration in GMA welding from the perspective of heat transfer and fluid dynamics. In 1988, he published his paper, "Fluid flow and heat transfer in GMA weld pools", inWelding Journal, which later became a classic of the field. During the following about thirty years, this paper was widely referenced by international welding experts.
In his later career, Wu Chuansong constantly worked as a pioneer and leader in the international academic circle of the field. It was in 2009, nearly twenty years after the 1991 invention of friction stir welding (FSW) in the UK, Shandong University finally obtained the device in order to assist with his study. Wu said, "Definitely it was a big challenge to ascend to the world frontier of welding."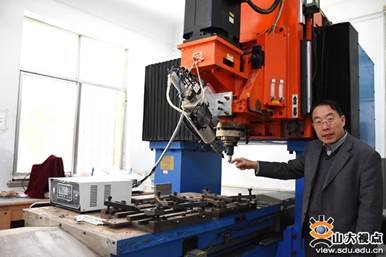 Wu introduced the "strengthened FSW technology and device with ultrasonic vibration" developed by his team to journalists
To prepare, Wu read more than 200 relative international articles in succession. He led the research team to tackle tough problems and finally invented the strengthened FSW technology and device with ultrasonic vibration. Then he published his research findings in international journals. In 2016, he won two international academic awards of great prestige and was invited to give two keynote speeches and three lectures at major international academic conferences. Gradually, the internationally pioneering technology has achieved a position at the forefront of international welding research.
Disciplining himself with standards for International top scholars
In the 1980s, Wu began to research the international welding circle and set a goal for himself — to discipline himself with the standards for international top scholars. For the past thirty years, he has maintained close cooperation in scientific research with peer experts from American, German and Japanese universities and research institutes.
In 1995, Wu Chuansong became familiar with and learned many things Professor Tanaka from Joining and Welding Research Institute, Osaka University, as a guest professor. "We should study a certain research field constantly for a long time." Wu concluded.
As for the research of material welding in SDU, Wu's team always stick to their "special skill"— the physical mechanism of welding technology. Welding is an interdisciplinary comprehensive specialty that deals with multidisciplinary knowledge of physics, chemistry, metallurgy, mechanics, electronics in electrical engineering, computers, automatic control and so forth. In Wu's opinion, "fundamental study is foremost for welding research".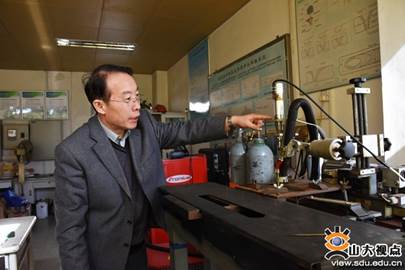 From 8.00 am to 5.00 pm, plus another three hours in the evening every day, (including Saturday and Sunday) is the "lab time" for Wu's team. Wang Lin, a student that began his postgraduate study in 2013 at SDU's School of Material Science and Engineering, suggested that research on fundamental theories such as numerical simulation, programming and algorithms are most challenging for them. He added that "Prof. Wu taught us to stay patient for academic research. He is our model in research."
Wu said, "there is only room for first place in academic research, and none for second."
A good learner
Wu Chuansong always remains unremitting in welding.
He is so absorbed in material processing that each time he enters the lab, he becomes excited. He often tells his students, "It feels wrong if I don't achieve something each day." From his own perspective, this is true of every profession: interest comes gradually in the process of knowing and learning, and is also the greatest motivation for studying.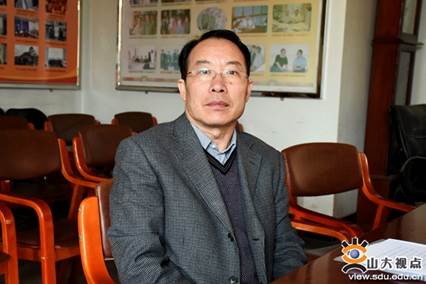 Prof. Wu is 58 years old now. He still works more than 10 hours every day except on Sunday, when he takes a half day off, as long as he doesn't travel on official work. He said, "it has become a subconscious habit after so many years."
Busy as he is, Wu finds much pleasure in his research. "I feel happier in the lab than staying idle for half a day." Besides teaching and scientific research, he needs to accomplish many social services such as academic activities and technological consultant. He also reviews 50 to 60 SCI papers for international journals each year, which means that he needs to complete at least one each week.
"I dare not to praise myself as an excellent researcher but I am quite confident that I am a good learner." Every time Wu attends an international conference, he will listen to the speaker earnestly from the beginning to the end. A single word or a picture may enlighten him.
Gao Xuesong, a student of School of Material Science and Engineering, SDU who began his postgraduate study in 2013, said that "Prof. Wu is serious in emphasizing academic morality with students. He demands that students obtain data through personal test and calculation because fake data is like a time bomb in your life—no matter how high you climb, it will blow you down eventually. I am deeply influenced by Prof. Wu's graveness and persistence."
Wu's biggest expectation—to bring young teachers up
Leaving the reward of the AWS Fellow behind, Wu retains his usual busyness and simplicity. When it comes to the next step of his work, he said it's the greatest expectation for him to bring up young teachers as influential persons at home and abroad. "Even though I will retire in seven or eight years, I believe the material welding of SDU will be developed stably and sustainably."
The School of Material Science and Engineering has reached a consensus as to how to improve young scholars' ability of scientific studies: to exert the collective power of the team to create conditions for young people and let them bear burdens actively and grow stronger as soon as possible.
In recent years, SDU has implemented the "Peak Discipline Plan" to focus on the building of three dominant disciplines to obtain a top-ranking level in the world. Faced with new opportunities and challenges, Wu Chuansong believes SDU has established a strong foundation for development, and the next step is worth looking forward to. He added, "the faculty of the school will combine their efforts to be ranked among the top 1 ‰ in ESI."
Source: view.sdu.edu.cn
Translated by: Zhang Kaige
Edited by: Kyle Muntz, Song Yijun