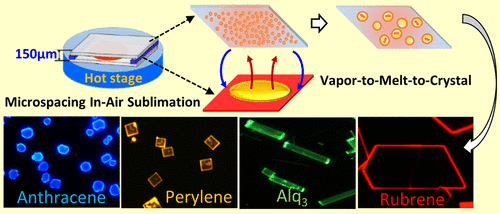 Recently, Professor Tao Xutang's group fromthe State Key Laboratory of Crystal Materials, Shandong University, has made important progress in developing new method to grow organic single crystals. The paper entitled "Microspacing In-Air Sublimation Growth of Organic Crystals" was published in Chemistry of Materials (DOI: 10.1021/acs.chemmater.7b04170), and recommended by the American Chemical Society (ACS) as "ACS Editors' Choice". Their Editor-in-Chief, Professor Jillian Buriak specially sent a letter to congratulate the group.
The integration of organic crystals on substrates is the basis for nearly all the organic optoelectronic devices. However, traditional growth of organic single crystals is limited by low solubility from solutions, or complexity from physical vapor deposition. The preponderant value of organic single crystal are still confined to be the ideal platforms to investigate the intrinsic structure-performance relationships but not for large scalereal applications. To this end, Ph.D. candidate Ye Xin under the guidance of Professor Liu Yang and Professor Tao Xutang developed a new method ofin-situ growth of organic single crystals by microspacing in-air sublimation. The method avoids costly vacuum system and time-consuming procedures and is practical for a wide range of organic crystals. The crucial knack of the new method is the micrometer scale spacing between the source and the growth position, which makes the crystal growth follows an unprecedented vapor-to-melt-to-crystal mechanism. FET devices based on the most representative organic semiconductor rubrene crystals directly grown on Si/SiO2substrate exhibited highest mobility device records of similar structures. This effective organic crystal growth technique can be affordable and handled for almost every lab, which may be beneficial for future research and application of organic crystals.
In professor Jillian's letter, she said, "Many Congratulations Professor Tao. Every year, ACS chooses 365 articles, out of the 44,000 it publishes, as an Editors' Choice. Congratulations on being one of the 365! "
The research was supported by the National Natural Science Foundation of China, the State Key Laboratory of Crystal Materials and the Qilu & Tang Scholar Program of Shandong University.
For more information, please visit:
http://pubs.acs.org/editorschoice/
http://pubs.acs.org/doi/10.1021/acs.chemmater.7b04170
Source: State Key Laboratory of Crystal Materials, Shandong University
Translated by: Ye Xin
Edited by: Xie Tingting