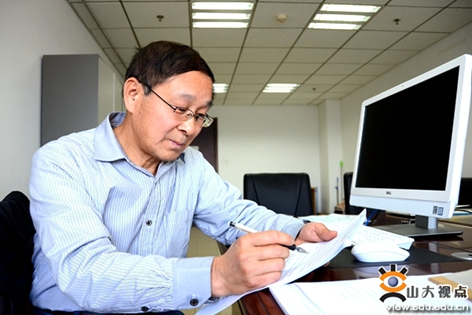 The World's Top Ten Science & Technology News in 1993, National Top Ten Archaeological New Discoveries in 2007, first author of the research paper published on Science in 2017, Ten Great Scientific Processes in China in 2017, Ten Paleontological Processes in China in 2017... Each of the honors above can be seen as a landmark in the field of Chinese Science and Technology, and they are all related to one archaeologist—Professor Li Zhanyang.
Li is an alumni of Shandong University who graduated in 1980 and majors in archaeology. He is a researcher at the Henan Provincial Institute of Cultural Heritage and Archaeology, an archaeological team leader of the State Administration of Cultural Heritage, and an outstanding expert of the Ministry of Culture and Tourism of the People's Republic of China. Lately, Professor Li Zhanyang has been officially employed by Shandong University as Distinguished Professor.
Three Things over Thirty Years
When recalling the past, Professor Li says, "Over the past thirty years, I have done mainly three things." It is these three things that achieve wonders in the fields of paleontology, paleoanthropology, and archeology.
The first event: 1993-1997: Li Zhanyang and dinosaur eggs
On September 3, 1993, Li was appointed as team leader of the Henan Xixia Basin Dinosaur Eggs Fossils Salvage Excavation Team. He began the salvage excavation work with his team members in places which already suffered from illegal excavation. He recorded some details in his archaeological diary.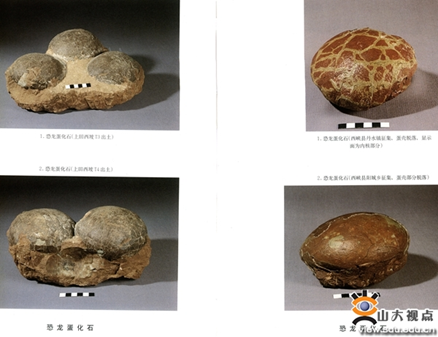 Dinosaur Egg Fossils
"On October 28th, we finally dug out several dinosaur egg fossils, and my emotions could be described as 'thrilled' rather than merely 'excited'."
"The difficulties of digging out dinosaur fossil eggs was much more than what we expected. The tools we used were hammers and steel drills, and the stratum was malmstone, whose hardness is equal to limestone, so generally one person can dig out only one egg in three days."
With hard work and joy, Li and his team are promoting the excavation work of dinosaur eggs in Xixia Basin, and their achievement has been praised by Science and Technology Daily as being among "The World's Top Ten Scientific and Technological News in 1993'.
The second event: 2005-present, "Xuchang Man" archaic human cranial fossils
In March, 2017, a paper from China showing the result of the identification of "Xuchang Man" archaic human cranial fossils, published on Science magazine shocked the world. It demonstrated a breakthrough of the research on human evolution: the "Xuchang Man", a group living in central China over 100 thousand years ago, who may be the direct ancestor of the early modern Chinese living in Northern China. Professor Li and his research team have been working hard on this remarkable scientific research for over a decade.
In June, 2005, Li took his archaeological team of Henan Provincial Institute of Cultural Heritage and Archaeology to do the excavation work at one paleolithic site in Lingjing Town, Xuchang City, Henan Province for the first time. By the end of 2005, they had excavated 2452 pieces of stoneware and over 3000 pieces of animal fossils. On December 17, 2007, the originally scheduled last day of archaeology of the year, one palm-sized archaic human cranial fossil was finally excavated.
Professor Li and the "Xuchang man" archaic human crania model
6 years later, in May, 2014, Li Zhanyang's team found over 20 archaic human cranias. So far, 45 archaic human cranias has been excavated from the "Xuchang man" site. They are spliced into two relatively complete human cranias, the age of which is 105 to 125 thousand years before present.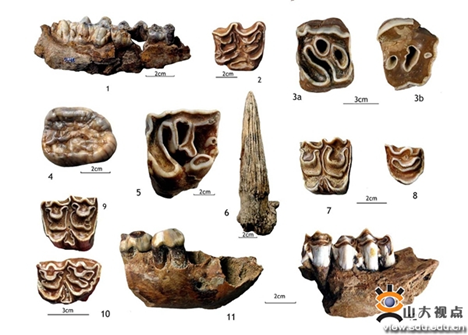 The animal fossils come from Lingjing "Xuchang man" site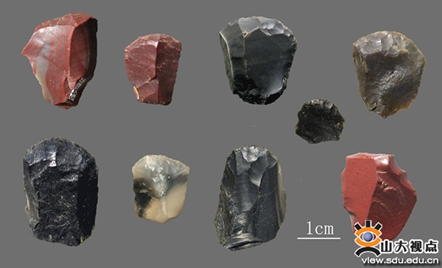 The microliths come from Lingjing "Xuchang man" site
When talking about the origin of homo sapiens, Professor Li says that the "Xuchang people" site is one of the most promising sites for researching ancient humans. Lately, he and his team have achieved new progress in their research there. They have found the earliest bone tool in China, which dates from approximately 115 thousand years before present.
The third event: 2017-present, discovering the origin of homo sapiens in Kenya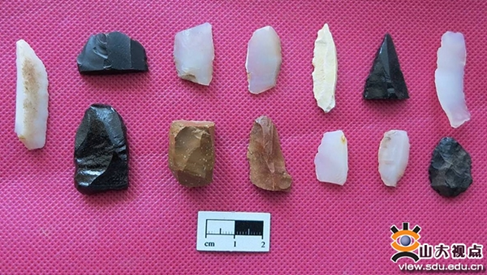 The samples of microliths found in Kenya
For solving unexplained puzzles in "Xuchang man" excavation, Professor Li went to Kenya and worked in a joint archaeological team. How did contemporaneous African stoneware look like? What were the human behaviors and technology like there? He would like to find out whether the "Xuchang people" came from Africa or not.
This joint archaeology was a cooperation project supported by Henan Provincial Institute of Cultural Heritage and Archaeology, Shandong University, and Kenya National Museum and implemented from 2017. China and Kenya have primarily made an accord that Chinese archaeologists have the naming right of the excavated significant human fossils and new-found hominin cultural site. The preliminary archaeological work has proven that the Baringo region in the Great Rift Valley of East Africa is rich in the remains of the Paleolithic cultural relics.
Professor Li said, "In the future, I hope that I can excavate and do research on European and Siberian relics and make a contribution to the worldwide research subject on the origin of homo sapiens as a Chinese scholar."
Years of Hard Work Paid Off
But how did he managed to follow through all of this difficult scientific research? When asked, Professor Li answered: "I think that's because archeology is such a fascinating subject that it attracts me so deeply."
Indeed, a successful excavation mission asks for some luck. For Li, this is even more true since his research area is the Palaeolithic Age that extends from about 3 million years ago to around 10000 BP. In such a period where the climate alternated between extremely cold and hot along with tumultuous glaciation, the chance for finding human fossils is considerably slim. No wonder it took Li 12 years to have finally amazed the entire archaeological field with his major finding-the "Xuchang people" archaic human crania. The charm of Archaeological discovery lies in those surprises and sense of achievements it brings to you, but the thing is that "surprises are just too rare."
Li once said, "Good luck is for the prepared and the persistent.""Knowing fossils is similar to memorizing English words, it will take you at least 30 times to make it imprinted on your memory. When the fossil was dug out, I immediately recognized it as a human's because I studied them every day."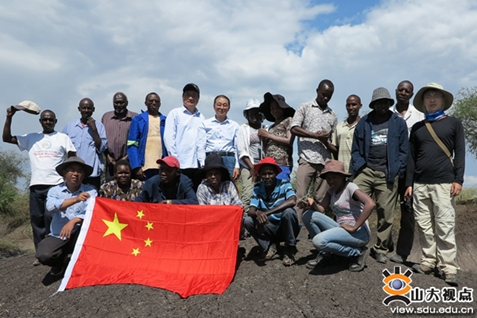 Li taking photo with members of the excavation team in Kenya
For Li, archeology has always been something that he holds dear.
His hard work finally paid off with the discovery of the "Xuchang people" archaic human crania. For him, it was not so much a newly-found fossil as an old friend.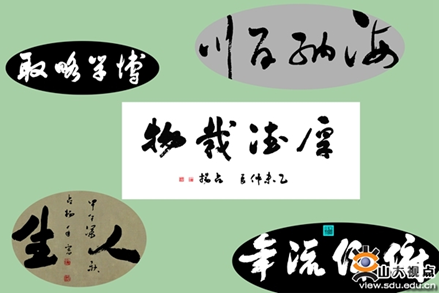 Apart from being an archeologist, Professor Li is also proficient in calligraphy, novel and prose writings. When he was out for archaeological research, he always spared time for novels and prose aside from writing research reports.
In his perspective, the course to successful discovery is full of hardship and loneliness, and only those who pursue their goals persistently will be favored by fortune.
Discovering the Mysteries of Science, I Am Always on the Road
For Li, being the distinguished professor of Shandong University means not only returning home, but also the continuation of his discovering tour.
As professor Li has explained, "I chose to teach at the university for the purpose of better applying and disseminating the experience and ideas in archaeological discovery I have accumulated over the past years, and for tapping into the biggest potential of my achievements by making use of the resources of SDU as it's developing itself into a world-class university with world-class disciplines." He is now leading several teams, both domestic and international, for research of the "Xuchang Man" site.
At SDU, all professors give lectures to undergraduates, and this semester Li takes up the course called Archaeological Discovery of the Palaeolithic Age which aims for freshmen of the School of History and Culture. According to his students, Professor Li never counts on the courseware for his lecture, but teaches in his own humorous way. After explained how a fossil was formed and how to identify it in his first class, he then amazed the students by bringing two real fossils the next class.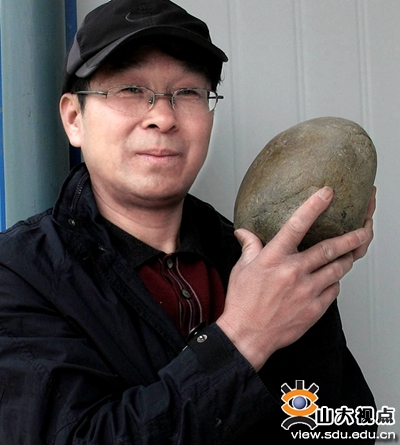 Professor Li once wrote a diary about dinosaur egg when he was young, in which he described the professionalism an archeologist is supposed to have—passion, knowledge and patience. This is not only the principle Professor Li has been practicing through all these years, but also his expectation on and advice to the younger generation.
As professor Li has said, "Scientific discovery is always on the way. Since it's impossible for us humans to solve all problems once and for all, what we should focus on is our present work." Currently, Li and his team are working on establishing their own theory system of global significance in human evolution study.
Source: view.sdu.edu.cn
Translated by: Zi Hanyue, Yin Qize
Edited by: Kyle Muntz, Zhang Xinyuan