In 1978, China entered the new era of reform and opening-up. A 17-year-old girl was admitted to Shandong University this year, majoring in Political Economy. Focusing on great changes inChina's economic situation brought by the opening-up policy, she set about further researches.
The year 2018 marks the 40th anniversary of reform and opening-up. That girl has studying economic management for 40 years. She has become an academic leader and head of the innovation team of the Ministry of Education who has voiced her academic opinions on major issues related to national economy and the people's livelihood. She is Yang Huixin, a professor and doctoral supervisor at the School of Management, Shandong University. She was awarded the leading talent of national "Ten-thousand Talent Project" in the third batch.
One Principal Line: Since the reform of state-owned enterprises, she has been focusing on the major practical issues
In 1985, finishing her undergraduate and graduate study at SDU, Yang chose to work at the university. Afterwards, she went to France for further study for one year. In 1996, Yang was admitted to Nankai University, where she studied with Professor Gu Shutang, a famous economist, for a doctoral degree. During that period she completed a series of surveys and research projects on the reform of state-owned enterprises. In the 1980s, China vigorously promoted the reform of state-owned enterprises. Yang wondered where the employees would go after many state-owned enterprises going out of business. So she did some research from the perspective that "the government should help the state-owned enterprises step down from the stage in terms of industrial organizational policy". At last, her doctoral dissertation, titled "The Relation between Enterprises and Industrial Organizational Policy—Taking the Automobile and Consumer Goods Industries as Examples" was accepted into the Contemporary Economics Library and published by ShanghaiPeople'sPublishing House and Shanghai Joint Publishing Company.
Because of the research mentioned above, Yang was awarded the Sun Yefang Prize for Economic Sciences in the year 2000, a prize known as the Chinese Nobel Prize in Economics. Awarded the top prize in the economics field in China, Yang felt joyful for being affirmed, and she also determined to do some practical things for enterprises and the people based on realistic major issues in China.
One Feature: Microcosmic and mesoscale, our researches should cover all levels
Professor Yang began her academic research with a focus on microcosmic enterprises. Enterprises have faced a fierce international competition since the establishment of China's marketing economic system and the complex situation after the reform and opening-up, so Yang gradually extended her research to mesoscale industries.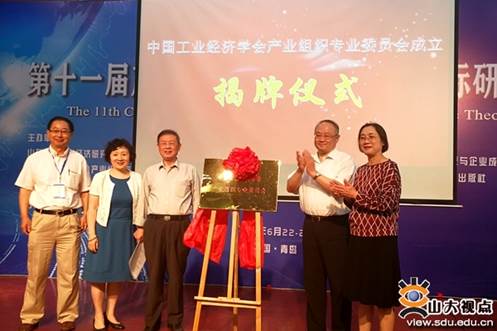 Professor Yang believes that, in the process of replace old growth drivers with new ones and the industrial transformation and upgrading, our country should, on one hand, spare no effort to advance the innovation of high-grade, precision and advanced technologies and the development of high-tech industry; and on the other hand, we should focus on the immediate development of the enterprises around us.
Yang paid attention to small-and-medium-sized enterprises and private enterprises. She appealed to build a batch of precise andpowerful small-sized innovative enterprises with the policy support of the government. For solving the problems like low added value, stuck in the bottom of the industrial chain, she suggested that enterprises should make efforts in design and R&D in the early stage, and brand and marketing in the later period, combining with the famous "smiling curve" theory in management. "From macro aspects, enterprises in our country should make a breakthrough in the industrial chain and value chain towards high-end and high-added value," says Yang, "Many of our enterprises have explored the transformation and upgrading, but this is a long process. After their breakthrough at the critical point, they will boom all of a sudden."
In 2013, a team named after the main direction of Professor Yang's research, "Industrial Organization and Enterprise Growth" was listed as part of the the "Innovative Team Development Program" by the Ministry of Education. According to the team members' point of view, the job of the team is to pay close attention to their theoretical foundation. But Management is a discipline with strong applicability. Professor Yang holds the opinion that colleges and universities should gather a group of researchers willing to do fundamental studies, and she is practicing what she preaches.
Professor Yang has become a well-known figure in the field for her theoretical innovation and the high congruence between her research and the reality. She holds the same expectations of the young scholars who have grown up with the team. She hopes that they can go further in the studies of China's practical economic and management situation and insist on researching specific areas to achieve their own results.
She says: "Only by having every scholar temper their own features can a discipline and a university form its real characteristics."
One passion: Researches should have humanistic care
Professor Yang Huixin says, "Management is an art in practice." She always remembers the research concept of Nankai Institute of Economics—"The Chinese should know about China and serve China."
As the chief expert, she has hosted many major projects of the National Social Science Foundation, including one project of Research on Constituting the New System of Modern Industry, one key project, two general projects, one major project of the national soft sciences, and over ten projects at the ministerial and provincial-level. She has also been awarded many national and provincial prizes. All of the research achievements are rooted in the development and practice of the Chinese economy.
Among all industries, Professor Yang has a "preference" for commercial circulation, catering industry, and the fashion industry. So far as she is concerned, these industries contain a huge consumption potential for meeting people's rigid demands. "If you, with an attentive mind and determination, imbed a variety of advanced technologies at home and abroad and management innovation into these industry, considering the large market of 1.3 billion population, you will definitely acheive the miracles of creating benefits for enterprises and jobs for people."
Meanwhile, Professor Yang has her own considerations. Since these industries are closely related topeople's livelihood and can create a lot of job opportunities for unskilled labour forces, she thinks that, "Although these industries seem insignificant, they have a great total effect. Research in these fields is vital, and scholars doing social scientific researches should possess this kind of humanistic care."
Currently, Professor Yang is leading her team to work on a project about which aims to replace old growth drivers with new ones in the manufacturing industry in Shandong Province. "Under the market economic system, innovation is an infinitely important topic if enterprises plan to build their continuous competitiveness."
One Identity: Being teacher in my lifetime. Wishing to cultivate entrepreneurs and managers for China's future
Q: "How do you recognize yourself?"
A: "A teacher and researcher in Management."
Professor Yang Huixin says, "You will get used to contact with students if you have been working as a teacher for a long time." As time passes by, a batch of students graduate and another batch of students are admitted to college. Students bring their young and lively temperament to the college, keeping her mentality young.
Good teachers will be remembered by a student for his/her lifetime. When speaking of those who had great influence on her, Professor Yang mentioned several tutors of hers during her postgraduate and doctoral period, including Gong Lize, Mao Yonglin, Gu Shutang, etc. She has kept in mind her teachers' precision, seriousness, sturdy minds, and generous hearts. During her 33 years of being a teacher, she has been observed, judged, and remembered by her students too.
Excellent Teacher in Shandong, Top Ten Excellent Teachers in Colleges and Universities, My Good Tutors in Shandong University, etc—besides many awards, Professor Yang has her own criterion of being "a good teacher". "A good teacher should cultivate a 'customized teaching mode' for each student based on his/her interests and characteristics to help the students get a job or do scientific researches." What is the "customized teaching mode"? Maybe we can only find out the answer from the bottom of our heart, from responsibility, and respect.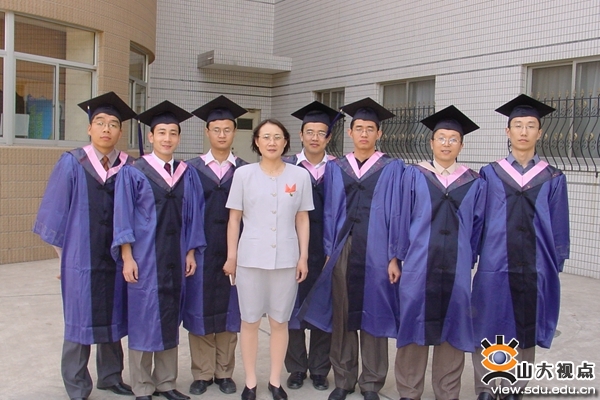 In her 33 years of teaching, Professor Yang has cultivated many experts in different fields
Professor Yang wishes that her students could be entrepreneurs and managers in the future, creating more economic miracles for China. To achieve this goal, it is necessary for teachers, especially young teachers, to constantly enhance their understanding of Chinese companies and the Chinese reality. "Teachers should value case studies in teaching and scientific research."
Source: view.sdu.edu.cn
Translated by: Yin Qize
Edited by: Kyle Muntz, Zhang Xinyuan