Recently,the 11th (2018) Intel Cup National Collegiate Software Innovation Contest for College Students (NSICCS) was held at Beijing Institute of Technology. Team "Turing" from Shandong University won the grand prize of this contest as well as other two awards, namely theAwards of the Largest Entrepreneurial Potentialand the Most Popular Award for Geeks. Other three teams from SDU won the first, second and third prize respectively.
The theme of this contest is "application and innovation based on artificial intelligence". Four teams of undergraduates from SDU entered the National Top 20 Final. Team "Turing" includes four undergraduates: Zhou Yang, Wu Jiaqi and Li Song from the College of Software and Dou Zhiyang from the College of Computer Science and Technology. Instructed by Associate Professor Dai Hongjun from the College of Software, this team developed a poster design system called "Davinci's Brush". For the purpose of "everyone can be a painter", this team quantified the four principles of poster design, graphic design rule and multiple design patterns, integrated all the above rules into the intelligent production of their work and created a complete automatic poster design system.
A team of four students from the College of Software won the first prize. They are: Yu Junyi, Xu Yichu, Xu Chaoyu and Ji Shaokang. Their work is a kind of audiobook service that helps users create emotional audiobooks and automate the abstract of a book. Another team from SDU's College of Software won the second prize andthe Award of the Largest Entrepreneurial Potential. The team members Kuang Haozhao, Guo Zhuo Qiang, Liu Penghao and Ni Huanqi worked together and designed a set of smart table tennis ball machines. Zhang Qian, Weng Qingtao from the College of Software and Wei Ran and Li Dongdong from the College of Computer Science and Technology together designed an aided recognition system of plagiarism that won the third prize. All these works fully demonstrate the innovative spirit and technical ability of SDU students in the field of artificial intelligence and other software and received consistent acclaim from Intel Corporation's technological experts and experts from Teaching Steering Committee of the Ministry of Education.
NSICCS began in 2008. Ever since November 13, 2017, the 11th contest has received a great many innovative works from 252 teams of 1411 students all across the country. After the preliminary contest and the final, a total of 1 grand prize, 3 first prizes, 6 second prizes, 10 third prizes and 4 Awards of the Largest Entrepreneurial Potential were elected.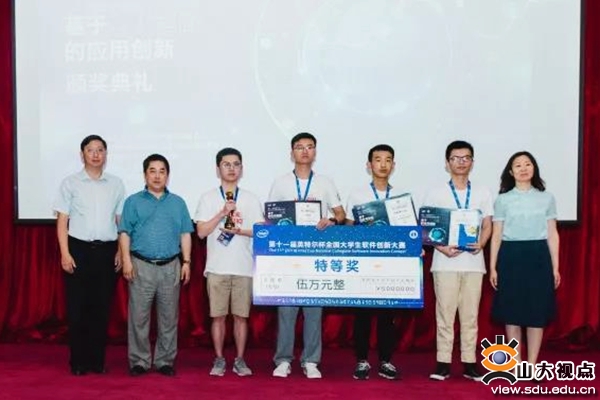 Translated by: Wang Jingnan
Edited by: Kyle Muntz, Lang Cuicui