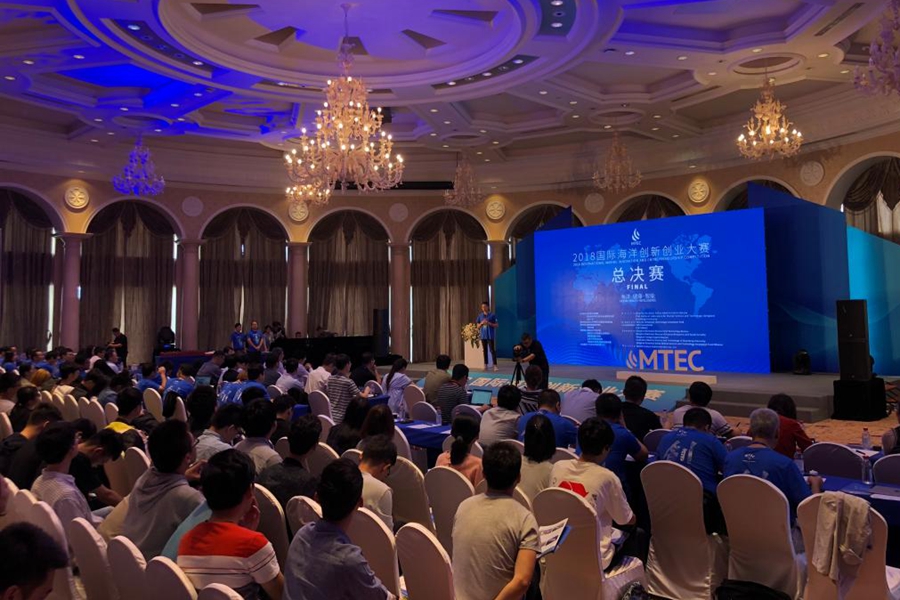 On the morning of September 21, the Qingdao Oceantec Valley witnessed the finals of the 2018 Global Marine Technology Entrepreneurship Competition (MTEC) cohosted by the Qingdao Oceantec Valley Administration Bureau, the Pilot National Laboratory for Marine Science and Technology (Qingdao), and Shandong University on the morning of 21st of September. Shandong University's Sino-US University Technology Innovation Park was this year's organizer. After ten preliminary competitions held in six countries, seventeen teams rowed over to the finals. Three teams from Shandong University were included in the finals. In the end, their project, "Julang Ocean Energy Resources Technology", was awarded first place, and "Hip High-Precision Intelligent Industrial Robot" won third place.
Ten preliminary competitions were held in six countries from home and abroad, including China, the United States, Canada, Germany, France and Britain. Participants in China can take part in the competition in Shanghai, Shenzhen, Jinan and Qingdao. A five-day training camp for improvement was specially arranged for all finalists. They have received trainings from high-level entrepreneurship mentors, investors and entrepreneurs from home and abroad. Through participating in entrepreneurship courses, face-to-face business plan discussions, and courses on policy, market, and investment synergy, each team was able to have an in-depth understanding of Qingdao so as to make an entrepreneurial plan more suitable for the city. The competition set up one first prize winner, two second prize winners and three third prize winners, of which each winner will receive an award of 500,000 yuan, 300,000 yuan and 100,000 yuan, respectively.
Following last year's event, the 2018 MTEC was the second global marine technology entrepreneurship competition co-organized by the Qingdao Oceantec Valley Administration Bureau and SDU. It's also one of the most far-reaching marine competitions in the world.
Source: view.sdu.edu.cn

Translated by: Zhang Beibei
Edited by: Matthew Lane, Shi Yajie