The seven latest scientific and technological achievements made by Shandong University were released at a ceremony held on Sept 12 in Jinan, capital of Shandong province, covering the fields of new generation information technology, high-end equipment, new materials, as well as medicine and healthcare.
Major projects were also signed at the ceremony, with contract values exceeding 210 million yuan ($29.68 million). Among them, the total technology transfer fee of patent achievements of alumina special ceramic materials and related applications reached 60 million yuan.
A team led by Chen Dairong, a professor at the School of Chemistry and Chemical Engineering of Shandong University, has been working on alumina ceramic fibers since 2002.
Chen noted that this transformation mainly involves the preparation of alumina microcrystalline ceramic abrasives and alumina based ceramic fibers by sol-gel method and related applications.
"Alumina ceramic fiber has many advantages, such as good thermal stability, high mechanical strength, large elastic modulus, and strong resistance to chemical erosion," Chen said.
Chen added that it is a kind of engineering material with excellent comprehensive performance, which can be used in many fields such as aerospace, petrochemicals, and metallurgy.
Wang Qilong, vice president of Shandong University, said that the university has been aimed at promoting the province's top 10 industries and making contribution to the development of Shandong's 16 cities.
Wang added that the university has made great progress in personnel training, scientific research, the integration of industry and education, as well as technology transfer and achievement transformation.
"In the future, Shandong University will focus on exploring the operation mode of market-oriented technology transfer, trying to introduce professionals and third-party institutions to broaden the channels for the transformation of scientific and technological achievements," Wang said.
According to the university, its scientific and technological cooperation and achievements transformation has been flourishing. Up to August of this year, the university has signed 25 co-construction platforms, with more than 170 million yuan in contract funding, including nine 10 million yuan level platforms. Its 27 achievements transformation projects were approved, including 76 patents. The proposed transformation contract amount reached 96.63 million yuan, hitting a new high.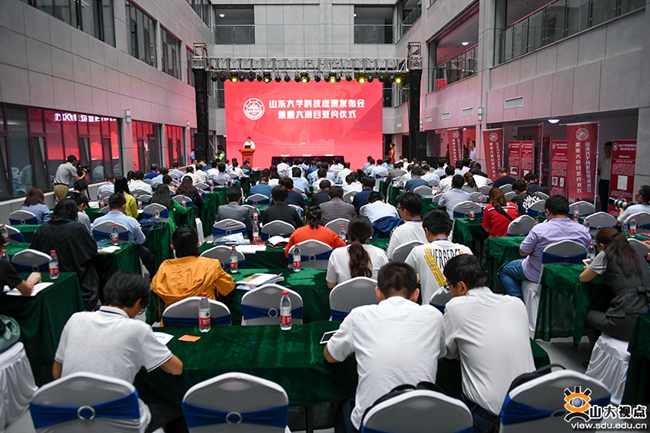 Shandong University announces its seven latest scientific and technological achievements on Sept 12 in Jinan, capital of Shandong province
Source: China Daily