On September 21, associate professor Li Peishan from School of Basic Medical Sciences, published his research achievement "Lung mesenchymal cells elicit lipid storage in neutrophils that fuel breast cancer lung metastasis " in Nature Immunology.
Most cancer deaths are caused by metastasis. Fortunately, metastatic spread is an inefficient process, and almost all of the cells fail to evade immune destruction or sufficiently adapt to divide and grow in the new environment. But any metastatic cancer cells that are able to survive the transition can become very dangerous. Researchers are working to better understand the mechanisms of metastasis and identify ways to inhibit it in cancer patients. Recent studies have focused on interactions between cancer cells and cells within the microenvironments to which they migrate, which can determine the success or failure of metastatic spread.
Neutrophils play complex roles in cancer metastasis and their presence in tissues throughout the body make them important components of tumor and metastatic cell microenvironments.In this study, the authors found that BM-derived neutrophils surprisingly accumulate neutral lipids when they infiltrate into the lung beginning from the pre-metastatic stage in breast cancer models. Such a lipid accumulation is not intrinsic to neutrophils, but triggered by lung resident CD140a+ mesenchymal cells (MCs). Through both soluble factors and cell-cell contact-dependent mechanisms, lung resident MCs strikingly provoke the expression of lipid droplet-associated genes, includingHilpda, cell death inducing DFFA like effector c (Cidec), and G0/G1 switch 2 (G0S2) in neutrophils. These upregulated ATGL inhibitory factors in turn suppress the ATGL activity causing triglyceride accumulation in lung neutrophils. Conditional knockout (KO) of Atglin neutrophils enhanced their lipid accumulation and led to a more robust progression of breast cancer lung metastasis in vivo. Conversely, genetic ablation of Hilpda in neutrophils inhibited their lipid storage and significantly reduced metastatic colonization by breast tumor cells. Furthermore, we found that lipids stored in lung neutrophils are transported to metastatic tumor cells via large-sized vesicles, instead of the classic form of lipid transport—free fatty acids. Through a macropinocytosis–lysosome pathway, tumor cells engulf the vesicles from lipid-laden neutrophils and subsequently acquire a heightened proliferative capacity in vitro and in vivo. Pharmacological inhibition of the lipid transport process in breast tumor-bearing mice significantly suppressed metastatic colonization. Collectively, these results revealed an unrecognized role of neutrophils as an energy source to accelerate breast cancer lung metastasis.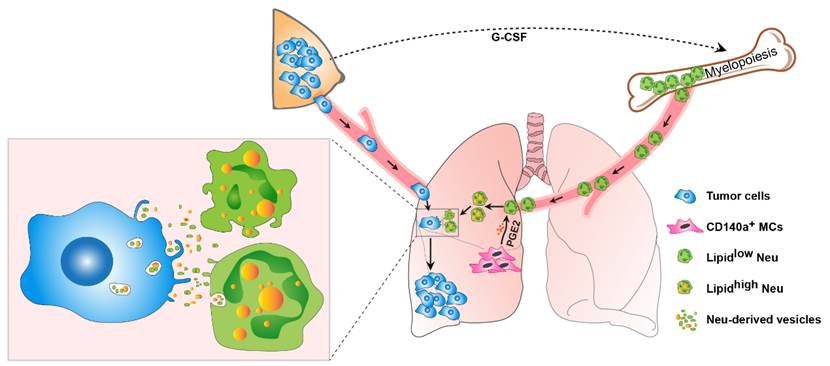 Further research is needed into the multifaceted functions of neutrophils in metastasis. The researchers found that inhibiting the transfer of lipids from neutrophils to cancer cells reduced metastatic colonization of the lung by breast tumor cells. Similarly, counteracting the inhibition of ATGL function in neutrophils could diminish the amount of metabolic fuel awaiting the disseminated tumor cells. Future metabolomics analysis of the vital organs prone to metastasis will help develop organ-specific treatments against metastasis.
Li Peishan, a member of Professor Gong yaoqin's team at School of Basic Medical Sciences of Shandong University, joined the Ren Guangwen research group (the Jackson Laboratory, USA) to engage in postdoctoral research in July 2017 through the "postdoctoral international exchange program". This article was completed during his visit in the Jackson Laboratory. Li Peishan and Lu Ming are the co-first authors, and Professor Ren is the corresponding author of the paper. Li Peishan is also supported by the Young Scholars Program of Shandong University.
Paper Link:https://doi.org/10.1038/s41590-020-0783-5
Written by:Li Peishan
Edited by:Che Huiqing